Health is the lack of internal interference for life
Contacts
Odessa(048) 777-29-50
Kyiv(044) 455-84-42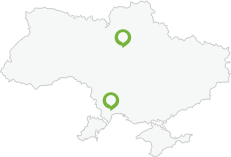 Interchem transferred 200 thousand doses of Amiksin to border guards and doctors to prevent 2019-nCoV coronavirus infection
Interchem transferred 200 thousand doses of Amiksin to border guards and doctors to prevent 2019-nCoV coronavirus infection

"Interchem" donated 200 thousand doses of an antiviral drug to border guards and medical workers to prevent infection with Chinese coronavirus.
An agreement on this was reached during a meeting with the Secretary of the National Security and Defense Council of Ukraine Alexey Danilov.
"The main message of our proposal is that we offer help, and helping for free.
There are services that are the first to face a viral threat and have high risk of infection. These are border guards who are at the entrance to the country, and employees of infectious diseases hospitals.
We will deliver the drug for prevention to the State Border Service staff in all regions of Ukraine and to the medical staff of the infectious disease hospitals, which are identified as the basic medical facilities for hospitalizing those infected with Chinese coronavirus, "said Anatoly Reder, CEO at Interchem.
At the same time, he emphasized that this is not about treatment, but exclusively about prevention:
"We do not pretend to be a panacea, we do not say that we have a cure for Chinese coronavirus in our hands. But we know for sure that the use of the drug can give an additional chance not to get sick".
The drug "Amiksin" for a long period of successful medical use has proven its antiviral efficacy and a favorable safety profile.
Currently, the drug has been shipped to infectious diseases hospitals in 28 cities of all regions of Ukraine and the State Border Service in four regions.