Amitsitron® sugar free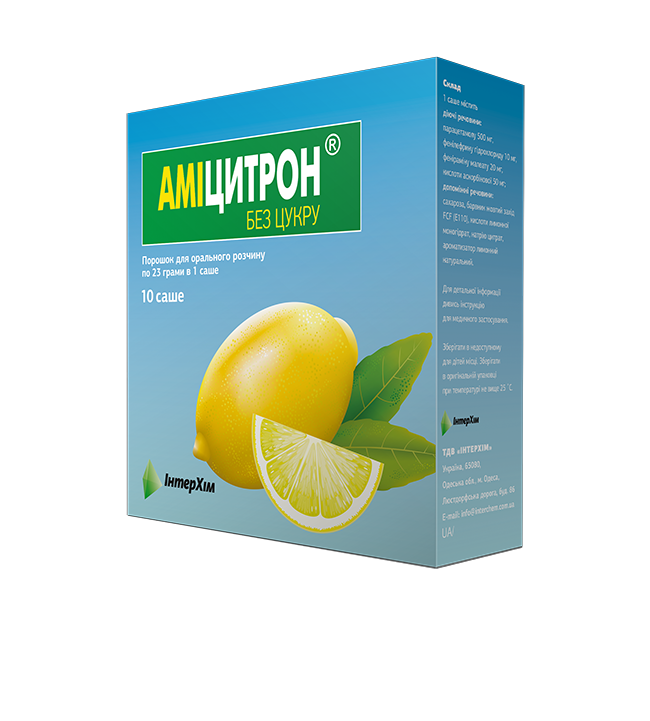 Combination drug with antipyretic, analgesic, antihistamine and vasoconstrictor action.
The drug is prescribed to adults and children of 14 years for the symptomatic treatment of acute respiratory infections and flu: fever, headache, nasal congestion, runny nose, sore and aching muscles.
The interior in the form of a solution. Package contents dissolved in a glass of hot water (not boiling water). It can be taken every 3-4 hours, but not more than 3 sachets per day. Duration of treatment - up to 5 days.


Trade name:
Amitsitron, Amitsitron sugar free, Amitsitron forte, Amitsitron forte sugar free
Dosage form:
powder, for oral solution
Pharmacotherapeutic group:
Analgesics. Other analgesics and antipyretics. Anilides. Paracetamol, combinations without psycholeptics. ATX code N02B E51.
Registration number:
№ UA/14116/01/01
Registration Date / Expires:
the validity of the registration certificate is not limited from 02.10.2019.
Packing:
Powder for oral solution of 13 g in sachet No. 1.


Powder for oral solution of 13 g in sachets; 10 sachets in a pack of cardboard.


Shelf life:
3 years
Category:
Non-prescription
Full information about this drug you can find in this
instruction