Amicitron® plus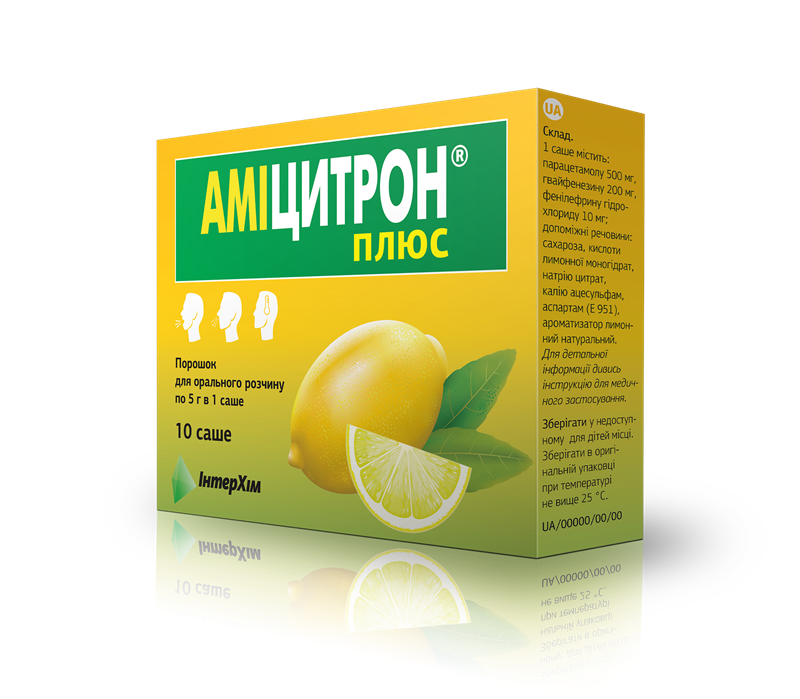 "Amicitron® plus" are indicated for the treatment of cold and flu symptoms: headache, pain and body aches, sore throat, nasal congestion, fever, productive cough with difficulty spitting out.
1 sachet contains: paracetamol - 500 mg, guaifenesin - 200 mg, phenylephrine hydrochloride - 10 mg.
Paracetamol has an analgesic effect mainly by inhibiting the synthesis of prostaglandins in the central nervous system and, to a lesser extent, by peripheral action, blocking pain impulses. The mechanism of antipyretic action is the effect on the center of thermoregulation in the hypothalamus.
Guaifenesin is an expectorant. It works by increasing the volume and reducing the viscosity of secretions in the trachea and bronchial tubes, which facilitates the spitting out of the cough.
Phenylephrine hydrochloride is a sympathomimetic, which mainly stimulates α-adrenoreceptors, which leads to narrowing of the vessels and reducing the edema of the nasal mucosa and accessory sinuses.
The active substances do not have a sedative effect.

Trade name: AMICITRON® PLUS, AMICITRON® PLUS without sugar
Pharmaceutical form: Powder for oral solution.
Pharmacotherapeutic group: Analgesics and antipyretics. Anilides. Paracetamol, combinations without psycholeptics. ATX Code N02B E51.
Registration number: № UA / 16181/01/01
Date of registration / valid until: the validity of the registration certificate is not limited from 06/09/2022.
Packing: 5 g of powder in sachet; 10 sachets in a pack.
Shelf life: 2 years.
Legal category: over the counter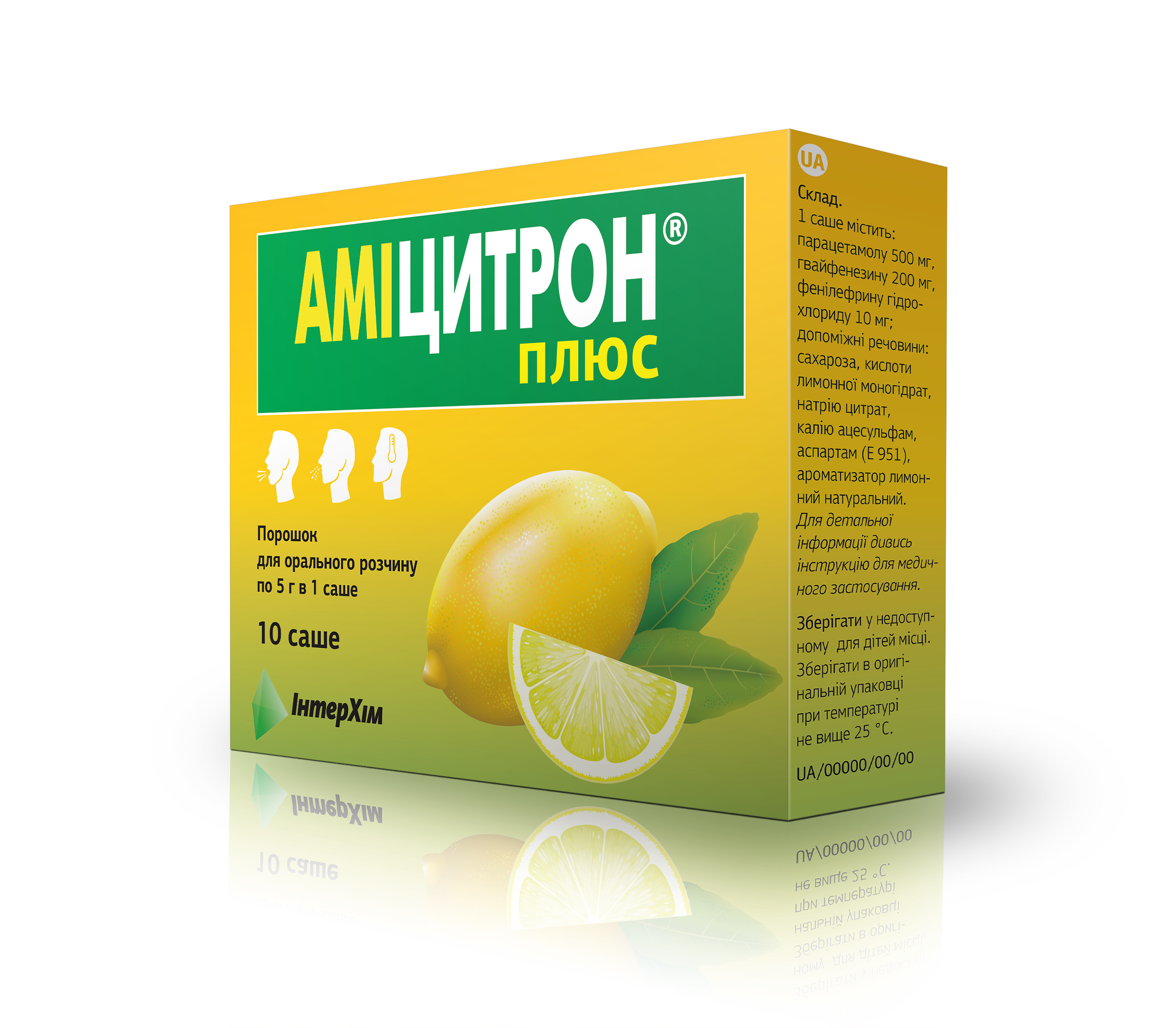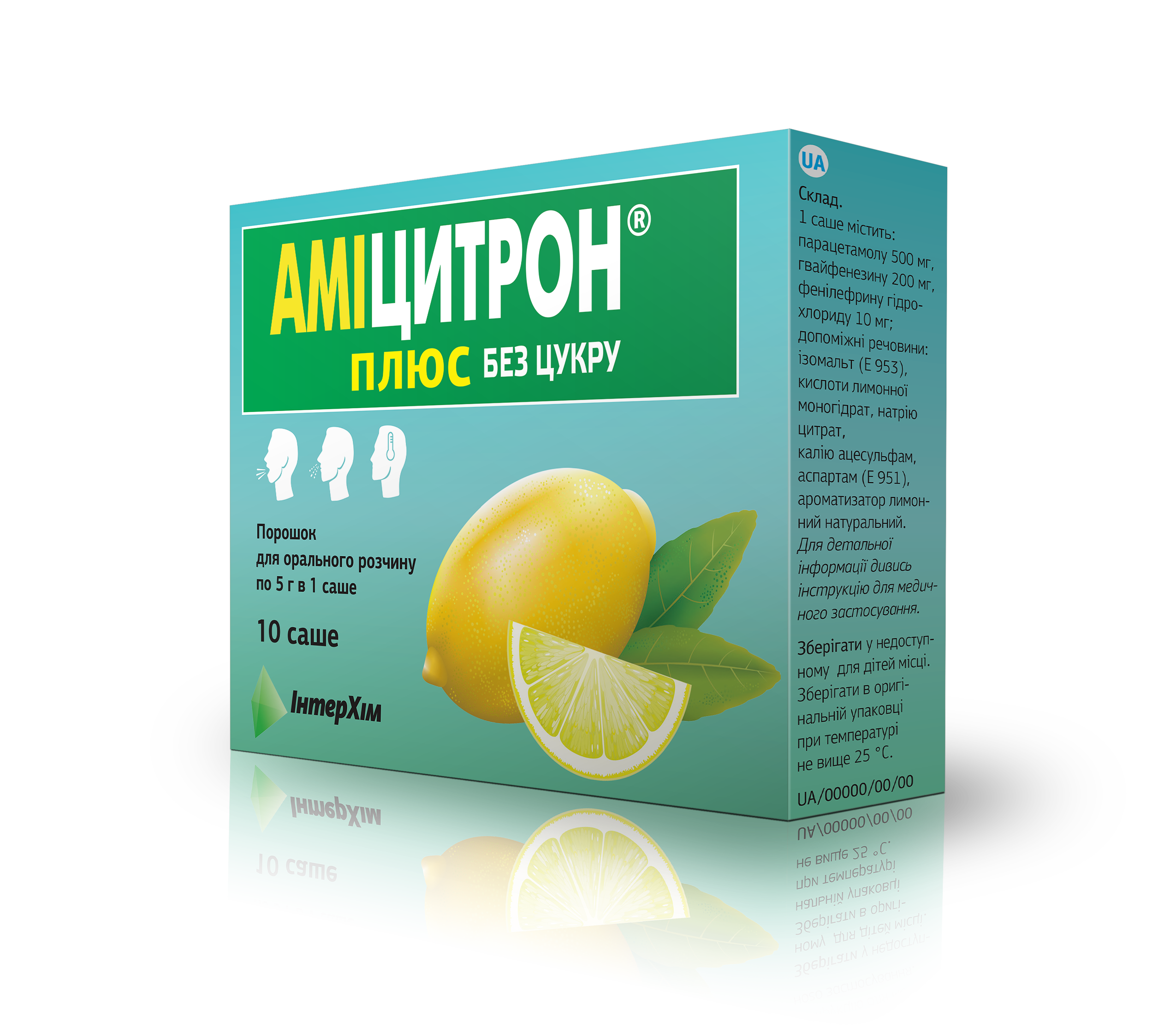 Full information about this drug you can find in this
instruction