Regisol IC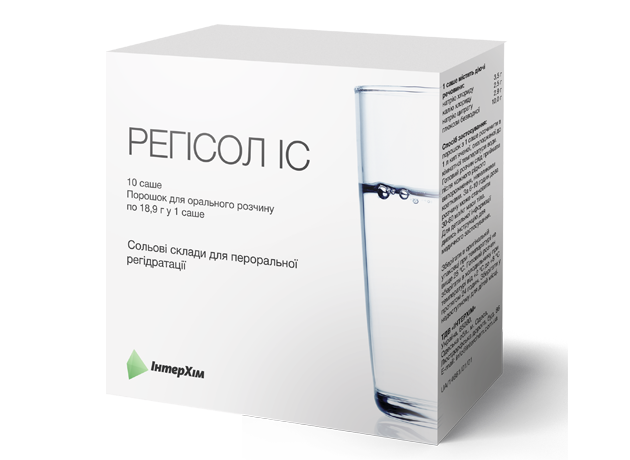 The product contains electrolytes and carbohydrates for oral rehydration.
Glucose promotes absorption of salts, citrates helps to adjust the balance of the metabolic acidosis. Regisol IC is used to restore the fluid and electrolyte balance, correction of acidosis during acute diarrhea, mild to moderate dehydration (for example, loss of body weight among children 3-9%), with thermal injuries associated with impaired water and electrolyte metabolism. The medicine is recommended during thermal and physical activity, leading to intense sweating prophylactically.

Trade name: Regisol ІC
Dosage Form: Powder for oral solution

Pharmacotherapeutic group: Preparations of electrolytes and carbohydrates. Salt compositions for oral rehydration.
ATC code A07C A

Registration number: UA/14661/01/01

Date of registration / expiration date: the validity of the registration certificate is not limited from 04/06/2020

Packing: powder for oral solution, 18.9 g in a sachet, 10 sachet in a pack.
Shelf life: 3 years
Legal category: over the counter
Full information about this drug you can find in this
instruction