Analgin-Dibazol-Papaverine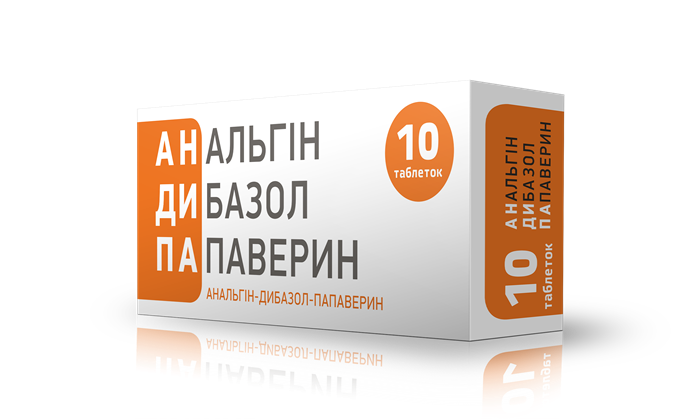 Combined medicine with analgesic, spasmolytic and vasodilating effects, caused by the specific effects of its components. The drug also has antihypertensive and antipyretic effects.
Metamizole sodium monohydrate - NSAIDs (NSAIDs) of the group of pyrazolone derivatives, has anti-inflammatory, analgesic and antipyretic effects. The mechanism of action is due to the inhibition of cyclooxygenase (COX) and the blocking of the synthesis of prostaglandins from arachidonic acid, as well as the violation of painful extra and proprioceptive impulses, an increase in the threshold of excitability of thalamic centers of pain sensitivity, and an increase in heat transfer.
Bendazole hydrochloride has spasmolytic, vasodilating, hypotensive effects, and also has a stimulating effect on the functions of the spinal cord and helps restore the functions of the peripheral nerves, has a moderate immunostimulating effect.
Papaverine hydrochloride has myotropic, spasmolytic, hypotensive effects. It blocks phosphodiesterase, causes the accumulation of cyclic adenosine monophosphate (cAMP) and a decrease in the calcium content in the cell, relaxes the smooth muscles of the vessels and internal organs.
Trade name: analgin-dibazol-papaverine
Pharmaceutical form: Tablets.
Pharmacotherapeutic group: Analgesics. Other analgesics and antipyretics. Pyrazolone. Metamizole sodium, combinations without psycholeptics.
The ATX code N02B B52.
Registration number: №UA / 15689/01/01
Date of registration / valid until: the validity of the registration certificate is not limited from 11.01.2022.
Packing: 10 tablets in a blister, 1 blister in a pack, 10 tablets in a pack.
Shelf life: 2 years.
Legal category: over the counter
Full information about this drug you can find in this
instruction