GeniusPlus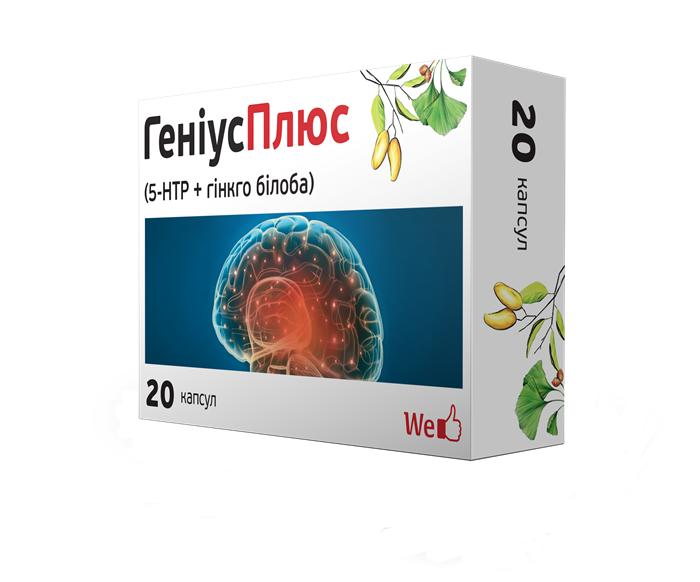 Dietary supplement to the diet, is used as an additional source of natural bioactive components: amino acid 5-HTP, flavonoids, ginkgolide, bilobalide to improve emotional state, decrease anxiety in nervous and mental overload, unbalanced diet, to improve mental and physical performance.
The dietary supplement composition includes two major natural components which determine its biological properties.
L-5-hydroxytryptophan (5-HTP) is formed in the body during the transformation of the essential amino acid L-tryptophan to serotonin, which is one of the main neurotransmitter of the central nervous system. Serotonin affects the emotional state of a person, in particular a sense of emotional well-being. GeniusPlyus (5-HTP + Ginkgo biloba) as an additional source of 5-HTP helps to normalize serotonin levels and a decrease in the manifestations of its deficiency in the body.
The biologically active substances that are part of the extract of leaves of Ginkgo biloba (Ginkgo biloba L.) contributes to the normalization of metabolism in the cells, exhibits anti-hypoxic and antioxidant effect, improves peripheral and cerebral circulation, prevents blood clots, has decongestant properties. It improves attention, memory, prevents deterioration of mental and physical performance.
Trade Name: GeniusPlus
Pharmaceutical form: capsules
Packing: capsules №20 (10x2), №60 (10x6)
Shelf life: 2 years
Full information about this drug you can find in this
instruction