Bupren ® IC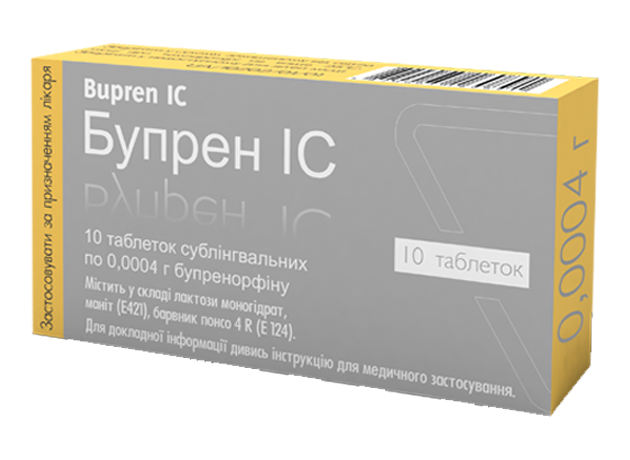 Centrally acting opioid analgesic, oripavine derivative. Mechanism of action refers to the group of agonists / antagonists of opioid receptors in the brain (μ- and κ-receptors). Buprenorphine significantly reduces the need for other opioids, thus, remove the drug withdrawal symptoms become low. Activates antinotseptiv system and thus violates the interneuron transmission of pain impulses at different levels of the central nervous system, alters the emotional pain. The duration of analgesia is more than of morphine. Buprenorphine depresses the respiratory center less than morphine and the risk of drug dependence is smaller during a long-term using.
Trade name:
Bupren ® IC
INN:
Buprenorphine
Chemical name:
17-(cyclopropylmethyl)- α -(1,1-dimethylethyl)-4,5-epoxy- 18,19-dihydro-3-hydroxy-6-methoxy-α-methyl-6,14-ethenomorphinan-7-methanol hydrochloride [5α, 7α(S)]
or 21-cyclopropyl-7-α-[(S)-1-hydroxy-1,2,2-trimethylpropyl]-6,14-endo-ethano-6,7,8,14-tetrahydrooripavine
Pharmaceutical form:
Sublingual tablets - 0.2 mg, 0.4 mg, 2 mg and 8 mg
Pharmacotherapeutic group:


Analgesics. Opioids. Derivatives of scrap. Buprenorphine.

ATX code N02A E01.

Means used in addictive disorders. Means used for opioid dependence. Buprenorphine.

ATX code N07B C01.


Registration number:
UA/10202/01/01; UA/10202/01/02; UA/10202/01/03; UA/10202/01/04
Date of registration / expiration date:
the validity of the registration certificate is not limited from 02.10.2019.

Packing:
tablets №10 (10 × 1) in a blister, in a pack
Shelf life:
4 years
Legal category
:
p
rescription
only medicine
Full information about this drug you can find in this
instruction