Metafin® IC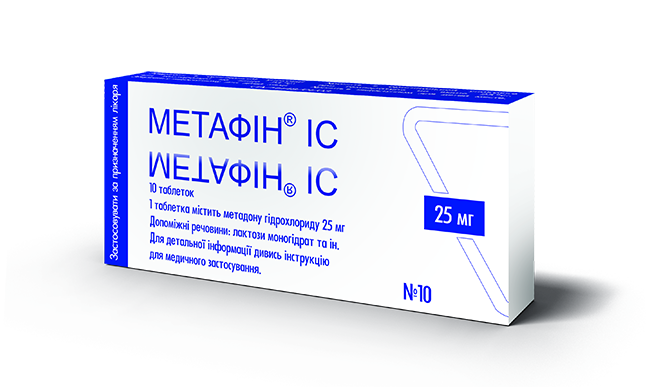 The active ingredient of the drug Metafin ІС is methadone. Methadone - synthetic opioid analgesic that acts primarily on the central nervous system and organs containing smooth muscles. Methadone has an analgesic and sedative effect, as well as exhibits detoxifying or supporting effect of opioid dependence.
Metafin ІS used for detoxification in the treatment of opioid dependence and the maintenance treatment of patients with opioid addiction. It is also used in pain syndrome of moderate to severe intensity, which is not relieved by non-narcotic analgesics (for tablets of 5 mg, 10 mg).
Trade name: Metafin ІC
INN: methadone
Dosage form: pills
Pharmaceutical group: Medicine affecting the nervous system. Tools that are used in additive disorders. Means, used for opioid dependence.
ATC N07B C02.
Registration number: UA/14448/01/01; UA/14448/01/02; UA/14448/01/03
Registration date/valid until: the validity of the registration certificate is not limited from 02.07.2020.
Registration in other countries: no
Packing: 10 tablets in a blister; 1 blister in a pack.
Shelf life: 3 years
Legal category

:

p

rescription

only medicine

Full information about this drug you can find in this
instruction