Bifok® ІC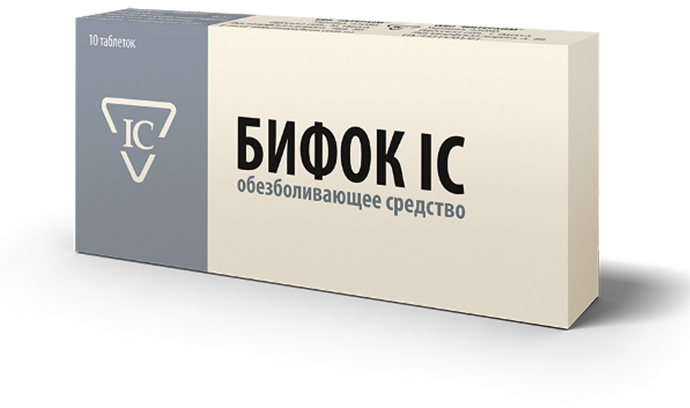 The medicine comprises ibuprofen which is a nonsteroidal antiinflammatory agent (analgesic and antipyretic effect), and codeine phosphate - an opioid analgesic that acts via central nervous system.The medicine is used for short-term treatment of acute, moderate pain that is not stopped by the other analgesics such as paracetamol, ibuprofen or acetylsalicylic acid (headache, migraine, recurrent pain, toothache, neuralgia, rheumatic and muscular pain, back pain) and belongs to non-steroidal anti-inflammatory and antirheumatic drugs.
Trade name: Bifok® ІC

Pharmaceutical form: Tablet

Pharmacotherapeutic group: Nonsteroidal anti-inflammatory drugs. Derivatives of propionic acid. Ibuprofen, combinations.
ATC code M01A E51.

Registration number: № UA / 14315/01/01

Registration Date / Expires: the validity of the registration certificate is not limited from 03/06/2020.

Packing: Tablets №10 (10 × 1) in a blister, in a pack

Shelf life: 3 years
Legal category

:

p

rescription

only medicine
Full information about this drug you can find in this
instruction