Сlofelin IC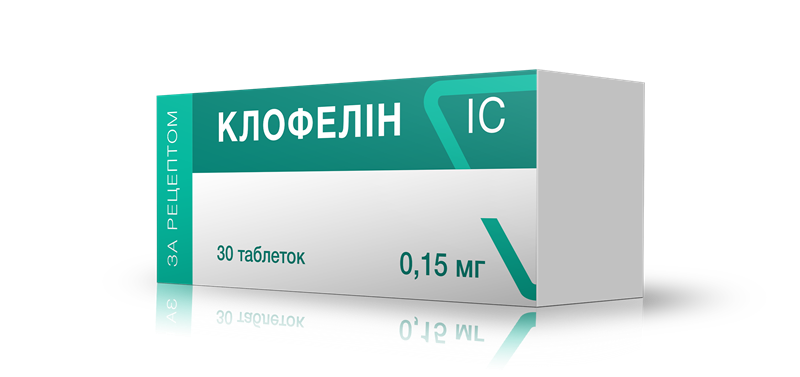 1 tablet contains clonidine hydrochloride 0,1 mg or 0,15 mg or 0,3 mg.
Clonidine is an α2-adrenergic receptor agonist, an imidazoline receptor, an antihypertensive central agent that acts at the level of neurohumoral regulation of vascular tone. Does not affect the synthesis of catecholamines, but inhibits the release of norepinephrine from nerve endings by the mechanism of negative feedback when stimulating α2-adrenergic receptors. Clonidine causes a decrease in the tone of the sympathetic part of the nervous system. As a result of this action, blood pressure and overall peripheral vascular resistance decrease, the heart rate and cardiac output decrease. In addition to the central action, clonidine may act as an agonist of peripheral postsynaptic α1-adrenergic receptors in vessels, which in some cases of clonidine is manifested by a slight increase in blood pressure at the beginning of treatment. Clonidine reduces intraocular pressure, has a sedative and analgesic effect, reduces the manifestation of opioid and alcohol abstinence, a feeling of unreasonable fear.
Indications for taking the drug - arterial hypertension (essential or secondary) as part of a comprehensive treatment.
Trade name: CLOFELIN SC
Dosage form: Tablets.
Pharmacotherapeutic group: Antihypertensive drugs. Antiadrenergic means of central action. Imidazoline receptor agonists. Clonidine. ATX Code C02A C01.
Registration number: №UA /16533/01/01; №UA /16533/01/02; №UA /16533/01/03
Date of registration / valid until: the validity period of the registration certificate is not limited from 12.29.2022.
Packing: 10 tablets in a blister, 3 blisters (for doses of 0.1 mg and 0.3 mg) for 3 or 5 blisters (for a dosage of 0.15 mg) in a pack.
Shelf life:
2 years (for dosages of 0.1 mg and 0.3 mg).
3 years (for a dosage of 0.15 mg).


Vacation Category: By prescription.
Full information about this drug you can find in this
instruction