Alkodez ® ІC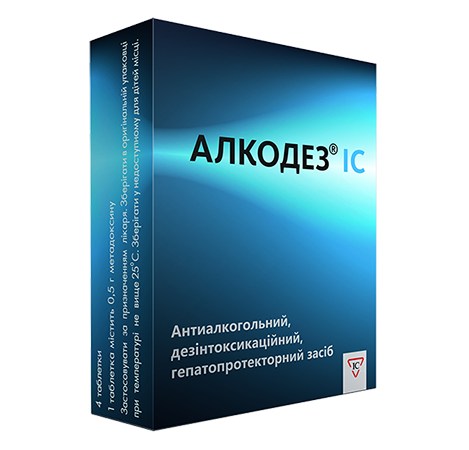 Anti hangover, detoxification, hepatoprotective medicine. Activates liver enzymes involved in the metabolism of ethanol, which helps to speed up the process of elimination of ethanol and acetaldehyde from the body, reducing their toxic effects.
The medicine reduces the psychic and somatic manifestations of hangover syndrome. Alkodez ® ІC has nonspecific antidepressant and anxiolytic effects, reduces the craving for alcohol. Reduces the relief of withdrawal symptoms.

Trade name: Alkodez ® ІC

INN: Metadoxine


Chemical name: Pyridoxine L-2-pyrrolidone-5 Carboxylate


Dosage form: tablets of 0.5 g


Pharmacotherapeutic group: Drugs used in alcohol addiction cases. Code PBX N07BB.


Registration number: UA/12717/01/01


Registration date / expires: the validity period of the registration certificate is not limited from 29.11.2017.


Packing: tablets 0.5 g №4


Shelf life: 3 years

Legal category: over the counter
Full information about this drug you can find in this
instruction