Phenazepam ІС®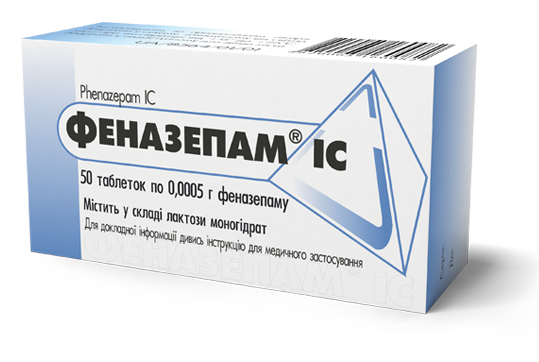 Phenazepam is a tranquilizer from the group of benzodiazepine derivatives. Its tranquilizing and anxiolytic activity is much higher than the similar characteristics of the other medications of this series. It possesses the sedative, anticonvulsant, myorelaxant and hypnotic effects. The mechanism of the effect of phenazepam is connected with the decreased excitability of the subcortical centers of the brain and with the inhibition of the interaction between them and the cerebral cortex.
Trade name: Phenazepam ІС®


Dosage form: Tablets of 0.0005 g, 001 g and 0.0025 g


Pharmacotherapeutic group: Anxiolytics. Benzodiazepine derivatives.
ATX Code N05B A.


Registration number: UA/8564/01/01, UA/8564/01/02 и UA/8564/01/03


Date of registration / valid until: validity of the registration certificate is not limited from 15.06.2018.


Registration in other countries: Georgia, Azerbaijan


Packing: 10 tablets in a blister, 5 blisters in a pack (for doses of 0.0005 g and 0.001 g); 2 blisters in a pack (for dosages of 0,001 g and 0.0025 g)


Shelf life:
4 years
Legal category
:
p
rescription
only medicine
Full information about this drug you can find in this
instruction