Pentalgin ІС®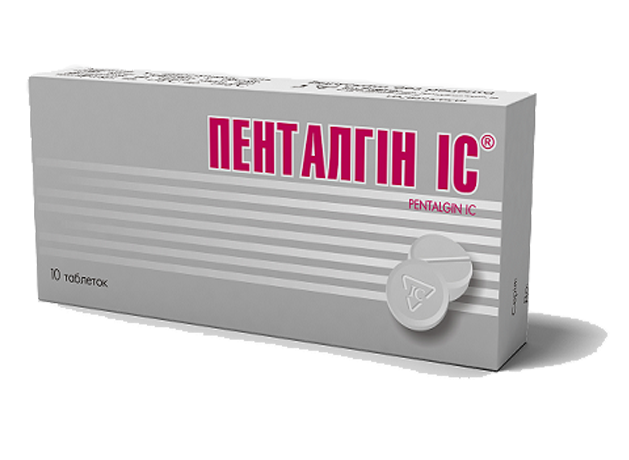 Combined product has analgesic, antipyretic and anti-inflammatory effect. Metamizole sodium (analgin) - a non-steroidal anti-inflammatory agent, pyrazolone derivative. It has analgesic and antipyretic properties, has antispasmodic effect on the smooth muscles of biliary and urinary tract, muscles of the uterus. Paracetamol - non-narcotic analgesics; blocks cyclooxygenase (COX), mainly in the central nervous system that affects the centers of pain and of thermoregulation; It has analgesic and antipyretic effect. Caffeine stimulates the psychomotor centers of the brain, has analeptic action facilitates penetration through the blood-brain barrier analgesics and prevent collapses, exciting vasomotor center, eliminates the sedative effects of other components of the drug. Phenobarbital in the composition of the drug has a sedative, antispasmodic and muscle relaxant action potentiates the analgesic activity of the components.
Codeine is central action antitussive, phenanthrene alkaloid series belongs to the group of narcotic analgesics. It reduces the excitability of the cough center, has analgesic effect. In small doses does not cause depression of the respiratory center, does not interfere with the function of the ciliated epithelium, does not reduces bronchial secretions. It enhances the effect of analgesics, hypnotics and sedatives.
Trade name: Pentalgin ® ІС
Dosage form: Tablets
Pharmacotherapeutic group: Analgesics. Other analgesics and antipyretics. Pyrazolones. Metamizole sodium, combination with psycholeptics.
ATC code N02B B72.

Registration number: UA/8694/01/01
Registration date/valid until: registration validity period the certificate is not limited to 30.11.2018.
Registration in other countries: Georgia

Packing: Tablets № 10 (10 × 1) in a blister, in a pack; №10 tablets in a blister
Shelf life: 3 years
Legal category: prescription only medicine
Full information about this drug you can find in this
instruction